"Strong female character" — oh how I LOATHE this phrase!
But it's not about to disappear any time soon if the interwebz has anything to do about it … So, we might as well know our enemy, right grrrrrls and boyz???
With this in mind then, when thinking about YOUR 'strong female character', chew over THESE pointers:
1) What's the definition of 'strong'?
What do people mean when they say a 'strong' female character is what they want? Well, annoyingly, potentially LOTS of things! Read comic book and screenwriter @mrtonylee's brilliantly inclusive definition of what 'strong' can mean, HERE.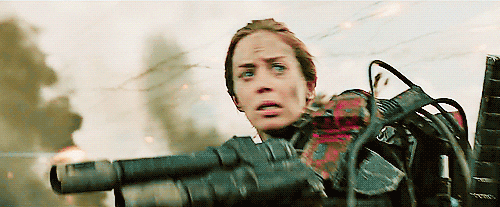 2) Don't we mean 'complex'?
Seems to me that 'strong' is a word with connotations that have screwed up female representations on screen. So instead, I'm all for 'complex', rather than strong.
But what does 'complex' mean? Well, for starters, we should be as used to see a heroine who is the smartest person in the room.
Men get to be this character all the time! They're experts in all sorts, from bomb disposal to genetics to mathematics to human interactions and relationships – so why the hell don't we see female geniuses as much?
But in addition to female characters being exceptional, we should see ORDINARY female characters, too … Again, just like we see ordinary male characters — and not just as protagonists, but secondary characters AS WELL.
More on female character complexity:
5 Ways To Write A Complex Female Character
4 Female Secondary Characters Who Deserve Their Own Movie
8 Female-Centric Biopics That Need Writing NOW
Forget 'strong', how WILY are your female characters?
Why we're bored with so-called 'strong' women
3) What does 'heroine' actually MEAN? 
ALL heroes in movies, partcularly blockbusters, have become caricatures of late – and even the 'strong female lead' is more inclined towards the 'Hardcore Hottie' stereotype.
But the good news is, there ARE lots of great female characters around – IF we look for them. So check these out:
Movie Heroines – Who Gets Your Vote? 
 Why I love the female characters on The 100
33 Experts share Their Notable Female Characters Of Recent Years 
33 Experts Share What They Want Next From Female Characters 
4) Why should there be only
ONE

?
One thing that can really get audience members' (frilly) knickers in a twist is the notion there can be only ONE female character in your cast list, as brilliantly satirised in as the token female member of this action team, I kick.
Tokenism never works, but equally neither does shoving a female character simply for the sake of it, either. Obviously, story should always come first.
PLUS it's worth remembering that just 'cos your female lead is totes kickass, does NOT mean she's not a great character.
Instead, think about the WORLD of your story and how it operates, because this will give you a HUGE clue on WHO the characters are within it, plus HOW they relate to one another. This can only be good for your story.
Hollywood's Greatest Mistake (Or Why You Need More Than 1 Female Character In Your Screenplay) 
The 1 Gender Swap That Could Make ALL THE DIFFERENCE In Your Story
5) How do
I

learn?

As I've said, many many times now: in all the years I've been working with writers, I have witnessed NO correlation between gender of the writer and how 'well' they write female characters.

This means:

Male writers can (and do) write female characters BRILLIANTLY.

Female writers can (and do) write female characters TERRIBLY.

So 'write what you know' is largely bobbins BUT on this issue, female writers *can* have the edge over male writers, simply on the basis they have firsthand experience of what it is to BE female. It's a case of authenticity, emotional truth if you will. But that doesn't mean it follows through, either.

So, if you're worried about representing your female characters 'well', take heart fellas – you are not the first. Equally, laydeez – don't think just 'cos you're a woman, you can AUTOMATICALLY sidestep all the *usual* gender stereotypes and BS. You can't.

Instead, think about what you can LEARN from others who have been there before you. The women who have done female characters and stories well are a GREAT place to start!

9 Female Screenwriters Worth Watching 

15 Fab Female Writers On Writing

9 Ways To Celebrate The Progress Of Female Characters, Writers & Makers

So, what are you waiting for? Get writing those female characters!
Want more on female characters?
Then check out my book, Writing & Selling Thriller Screenplays, which includes a detailed analysis of gender role types and functions; or check out Writing & Selling Drama Screenplays, which puts an emphasis on female directors and screenwriters in its case studies of produced films. Enjoy!