On Gender Swapping
When it comes to gender swap characters, we generally hear about …
How Ripley was originally a male character
How Lara Croft is a female Indiana Jones
Or a single female in a team is THE GIRL CHARACTER
(The Girl Character is invariably "There can be only one!" HIGHLANDER-style. So, there is a woman in this storyverse but her FEMALE-NESS is what defines her, whereas individual men can be The Funny One; The Clever One; The Hard Nut; The Geeky One and so on and soforth. UGH).
In other words, it's the same-old, same-old and frankly I am bored even of myself talking about this shit.
But what if I told you there was one gender swap that could make ALL THE DIFFERENCE to your story, whether you're writing a screenplay or novel?
MORE: How NOT To Write Female Characters 
Strong Female Characters …
… How I loathe this phrase. Don't get me wrong, the intention was good. But it's come to mean what I call the Kickass Hottie – or, if you want to get a little controversial – me?? – "men, with boobs".
Doing a straight gender swap, 'just' a female lead substituted for a male lead DOES NOT WORK ANYMORE.
On Kickass Hotties
But you know what? I like Kickass Hottie. She's fun. I like to see a leatherclad gorgeous femme destroy stuff and kick men in the face. Why wouldn't I like that?? I don't watch action movies to be educated, FFS. I'm in it for the explosions and – le duh! – the action.
So Kickass Hottie is simply a straight gender swap, male for female, no *real* change. Which is all well and dandy if this happened just in daft movies about exploding stuff. Except it doesn't. MORE: As The Token Member Of This Action Team, I Kick
It's A Man's, Man's, Man's World …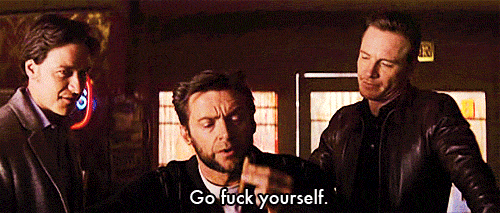 As I've said before, I think the biggest issue is not any *type* of female character is BAD. Regardless of whether Kickass Hottie is an inherently "male" fantasy figure or not, she is not responsible for keeping women down the world over. Audiences both male AND female obviously like her, else she'd have faded away a long time ago.
However, the fact female characters are sidelined so readily by storytellers and makers IS symptomatic of one thing and that's patriarchy. We live in a man's world and this is reflected in the stories writers tell, 9/10 – and more often than not, unconsciously. Before anyone gets hot under the collar, let me be clear: this is not a judgement. But it is what happens. Think about it.
… The Ultimate Gender Swap
In comparison then, storyworlds can be whatever a writer wants. So your characters could live in a woman's world, for whatever reason. It could be overt, but it doesn't have to be. And guess what: even a male protagonist could still live in a woman's world, like Bellamy in The CW's THE 100.
What If It Was A WOMAN'S World?
THE 100 is a matriarchal storyworld. Most of the main characters and figures of authority are female: Clarke is our ultimate protagonist (with Bellamy right behind her) … but every woman in THE 100 is important: Abi, Raven, Octavia, Lexa, even smaller characters like Indra and Maya. Women are good AND evil AND somewhere in-between. They are warriors, politicians, soldiers,  commanders, mentors, mechanics, mothers and geniuses. Women might be the solution, yet they also make the problems too – just like their male counterparts in other stories.
Yet most interestingly, THE 100 does not sideline its male characters as standard, like so many patriarchal stories sideline women. Bellamy has had a complex arc across both series, moving from the antagonist role function, to weakest link, to hero.
Other male characters such as Finn, Lincoln, Murphy, Kane or Jaha have mimicked Bellamy's journey too, or gone in the opposite direction. All these men are complex characters, with their own needs and desires, creating solutions and problems every bit as much as every female character. MORE: Women Outnumber The Men In Main Roles In THE 100 – And Why Not?
And THIS Is It …
… This is the gender swap I'm talking about, that could make all the difference in your story:
What if women were in charge of this storyworld (whatever that means)?
What could you, the writer DO with that? Where could you take us?
Just imagine.
It's up to you.
So what are you waiting for?
MORE: Why I love the female characters in THE 100, by the show's @TeelaJBrown
Like this?
For more on female AND male characterisation and role function in genre screenplays, click on the pic or HERE, to look inside in the front of my book, Writing And Selling Thriller Screenplays.